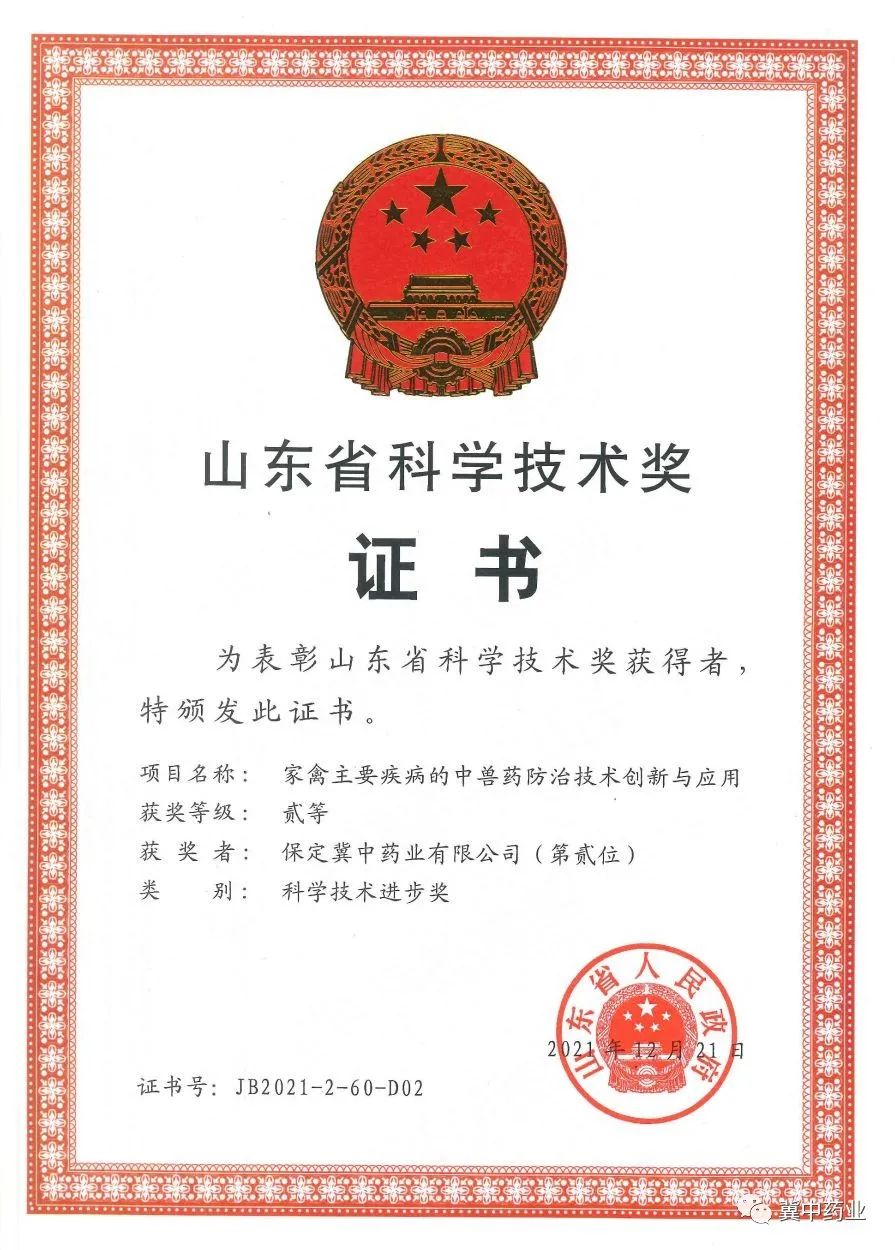 The latest technological achievement "Technological Innovation and Application of Chinese Veterinary Drugs for the Prevention and Control of Major Poultry Diseases" jointly developed by Baoding Jizhong Pharmaceutical Co., Ltd., Shandong Academy of Agricultural Sciences and Shandong Agricultural University won the second prize of the 2021 Shandong Science and Technology Award!
The company adheres to the research and development strategy of "how far the research and development goes, how far the enterprise can go", and has three research and development institutions: Shijiazhuang Chemical Drug Research and Development Center, Provincial Chinese Veterinary Drug Engineering Technology Innovation Center, Provincial Animal and Poultry Pharmaceutical Preparation Technology Innovation Center, and domestic Major agricultural institutes have carried out joint research and development, and commissioned research and development of process technology with Tsinghua University, Ningxia University, Peking University, etc. A complete R&D system has been established in the three major fields of poultry, pigs, and rumination; a sub-system support system for prevention, health care, quality improvement, and disease treatment has been established. In recent years, 24 national new veterinary drugs, 32 national invention patents and 31 scientific and technological achievements have been obtained.
"Sharp sword from the sharpening out, plum blossom incense from the cold weather." It is hoped that enterprises will further create an environment and atmosphere conducive to the growth of scientific and technological talents and the production of high-quality innovative results, and encourage the majority of scientific researchers to take responsibility, devote themselves to research, and create value for the future. The further rapid development of the enterprise is escorted!
---
Post time: Mar-18-2022